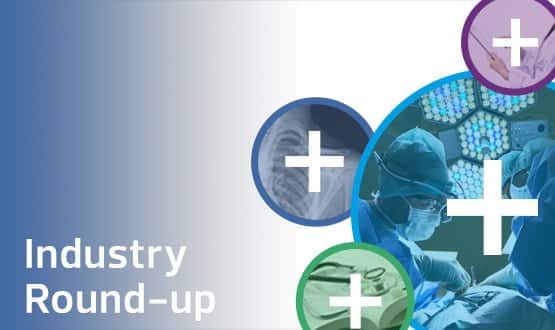 The latest industry roundup from Digital Health News covers the release of IMX Interoperability Record, a new unified communications system and a win for an app that supports post-surgery wound management.
NPIC expands reach with more funding
The National Pathology Imaging Co-operative (NPIC) received a second wave of funding enabling the signing of a five-year agreement with Sectra, which will help expand its reach to more trusts.
The NHS initiative currently covers six trusts, digitizing pathology services to improve patient diagnoses. The collaboration with medical imaging technology partner Sectra enables cooperative organizations to share digital images, more easily send images to specialists, and adopt AI to improve disease diagnosis and management.
The deal will see NPIC extend its support to more hospitals in the north of England, but the deal also allows it to expand its approach and Sectra technology to hospitals across the country. In addition, two new networks specializing in digital pathology will be created in pediatrics and tissue cancers of sarcomas, in support of the national reference networks.
Basharat Hussain, Director of Deployment at NPIC, said: "Our work may have started with a regional focus, but we are moving towards some important national clinical priorities in areas like pediatrics and sarcoma cancer. , where pathology specialists are particularly rare. We have now identified a much larger application for our program. We have shown how digital pathology can work and we can help the rest of the NHS replicate and scale by using our learnings to digitize pathology to support better patient care.
The deal follows a separate government announcement in November committing £248 million over the next year to help modernize NHS diagnostics using the latest technology.
Leeds University Hospitals offer students a digital experience
The digital team at Leeds Teaching Hospitals NHS Trust offers students a bespoke internship program giving them the opportunity to gain paid work experience.
Since the program launched in 2018, it has helped 25 students gain experience in a supportive environment.
Martin Waugh, Associate Director of Digital, leads the development team in Leeds. He said: "Our interns have done a fantastic job over the past few years. They play a very important role on the team, helping us realize the potential of new features, and have been invaluable during the covid pandemic, getting involved with new releases and helping to speed up the development of key things. of functionality.
Leeds works exclusively with the Leeds University Union Joblink team to provide opportunities for students.
Miiskin's Skin Tracking Platform Supports Dermatology Research
Digital skin health platform, Miiskin, has opened up its technology for free to academic researchers to support digital collaboration in new dermatology research in the UK.
He recently developed an AI-powered digital teledermatology platform, which is now freely available for scientific research in skin cancer, wound care and conditions such as rosacea, acne, psoriasis and eczema. Skincare research subjects will be able to use the Miiskin app and connect with researchers through a secure web portal to share high-definition photos and structured patient-reported information.
The Miiskin app is powered by AI and allows users to document and track moles, lesions and other chronic skin conditions over time. Advanced features include face tracking, augmented reality mole sizing, automatic skin imaging for full body images, and the first large-scale skin mapping technology.
NHS Scotland collaboration improves radiology services
Following a successful year-long pilot project, the NHS Golden Jubilee has been confirmed as the home of the new Scottish National Radiology Reporting Service (SNRRS).
The service combines innovative technology with existing capacity to enable consultant radiologists to report diagnostic images remotely from anywhere in Scotland.
The collaboration between NHS Golden Jubilee and NHS National Services Scotland has seen the roll-out of Share+, a cross-council radiology reporting solution, the creation of a service implementation team, the roll-out of home workstations and the recruitment of consultant radiologists to join the bank.
Going forward, the NHS Golden Jubilee hopes to further expand the service by increasing reporting capacity and exploring new ways to increase cross-sectional reporting, to maximize service delivery to patients.
ReStart Announces Release of IMX Interoperability Record
ReStart has released IMX-IR, which will help trusts and integrated care systems with their digital transformation projects across the NHS. The addition of the IMX-IR product will be an interoperable digital care and consistency to any interoperability mission.
ReStart's existing product, IMX Platform, has already provided organizations with the tools and expertise to implement interoperability strategies. IMX-IR will provide a range of NHS-led solutions to trusts.
Mike Symers, Managing Director of ReStart, said: "Our IMX interoperability platform offers many different opportunities for delivering better patient care within trusts, ICS and other NHS organizations wishing to improve their digital maturity. . We offer IMX to decision-makers making choices about how to meet NHS demands for integrated care.
"The ability to provide solutions to such diverse programs is credited to the flexibility of the IMX platform and our staff who are true integration experts. Our belief in "open technology" leverages existing software and recognizes that there will be proprietary, new, and open source systems coexisting together. This ensures that the customer is always able to upgrade to lower cost solutions. »
Wrightington, Wigan and Leigh University Hospitals are upgrading old phone systems
Wrightington, Wigan and Leigh Teaching Hospitals NHS Foundation Trust (WWL) has commissioned Cinos' Cisco Powered Unified Communications service to modernize its legacy legacy telephony systems.
The rollout is part of its 2030 strategy, as the trust seeks to grow its digital capabilities and implement a modern and resilient Unified Communications (UC) service across the organization.
Cinos delivered the new contact center solution late last year, which improves the patient experience. The current phase of the project consists of replacing the existing telephony with a modern IP solution.
The UC platform offers a range of channels that will allow employees to work effectively with each other and deliver an optimized patient engagement journey. These include web and video conferencing, voice calling, desktop sharing, and instant messaging.
Malcolm Gandy, Chief Information Officer at WWL, said: "The service has been designed in line with our recently announced digital strategy, which supports our investment in the latest digital and cloud technologies. It was so important that we selected the right solution and vendor for this project to ensure positive outcomes for our staff and patients.
Ada Health's AI solutions available on the Epic Orchard app
Epic customers can now integrate Ada's AI-powered symptom assessment, care navigation and referral capabilities into their own platforms as they are made available on the Epic App Orchard Marketplace.
The integrations will enable patients to better manage their healthcare journeys, make informed decisions about their health and wellbeing, and share critical information ahead of healthcare visits.
Healthcare systems and care providers will be able to offer users reliable, AI-powered tools in their Epic MyChart Patient Portal. This can help streamline the assessment process with the Symptom Assessment Tool, saving healthcare professionals time. The handover report will help them provide better informed clinical recommendations to patients.
Additionally, Ada's secure single sign-on (SSO) capabilities support a seamless care journey and, by pre-populating assessments with information from medical records, can save the user time. It can also connect to clients' own appointment scheduling systems.
A project to reduce surgical infections rewarded
A new app designed by the monitoring team at Royal Brompton and Harefield hospitals and colleagues from King's Health Partners, has now won three patient care awards and is being used at Evalina London.
The app allows children and their families to take images of their surgical wounds after surgery and send them digitally to their clinical team, without having to travel to Evalina London.
He was recognized for "Innovation in Surgical Site Infection" at the Journal of Wound Care Awards from the World Union of Wound Healing Societies. This victory follows the success of the Health Tech Digital Awards, where it won two categories: New Health Tech Innovation of the Year and Best Innovation Project of the Year.
The app was created in collaboration with health technology company Isla and allows the clinical team at Evalina London to monitor how quickly wounds are healing after a patient is discharged. It was rolled out to patients and their families last summer. The child's recovery is monitored by the clinical team, with families submitting weekly photos for up to four weeks. This allows any signs of infection to be spotted quickly.
Trio Healthcare explores UK thoughts and opinions on health-related topics
Trio Healthcare used Google search data to uncover diseases and conditions that people in the UK may not understand, with the aim of raising awareness.
He also conducted his own survey, which found that 92% of people have researched a medical condition online. Just over half of the 1,000 respondents (51%) said that if they had any health conditions or symptoms they would search online first.
Google data showed lupus was the condition Britons were most likely to search for on Google with an average of 27,000 monthly searches, followed by anxiety, MS and sepsis, all of which generated an average of 22,200 monthly searches. The top four were followed by gout (18,100), COPD (14,800), Crohn's disease (14,800), schizophrenia (14,800), hemorrhoids (12,100) and dementia (12,100).